Overview
Euro-Mediterranean Summer School will be held in Cagliari, with the main aim of capacity training for Business Support Organizations (BSO) executives and focus on capacity enhancing measures to access to finance. The training initiative is organized within the framework of the EU financed project EBSOMED.
Main Objectives
The course aims at improving exchanges of competences and relations between BSOs interested in co-operation programs and projects and to start the concrete design of proposals under the new Euro-Mediterranean funding instruments, in particular ENI CBC MED 2014-2020..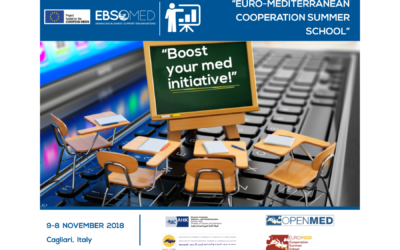 The German-Arab Chamber of Industry and Commerce (GACIC) and Association of the Mediterranean Chambers of Commerce and Industry (ASCAME), partners of EBSOMED project, and OpenMed, organize "BOOST Your MED Initiative!" that will be held in Cagliari, Sardinia – Italy,...